Sometimes, vets get a reputation for helping pets whenever they're sick or injured only. However, your pet could benefit from routine vet care visits. Also known as wellness visits, our veterinarian at Kindred Care Pet Hospital, serving Richmond, TX, and the general vicinity, can help detect health concerns early and prevent certain ones from arising. Our veterinarian can provide vet care and pet services for your pet's wellness.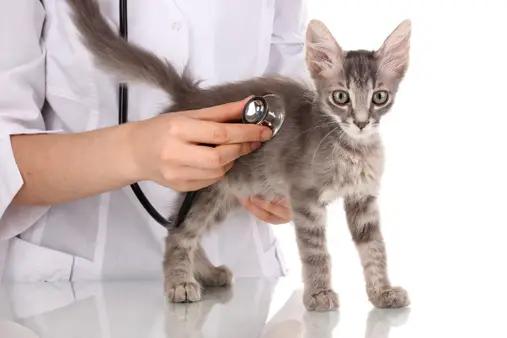 What a Visit Entails
As a general rule, a pet wellness exam consists of our vet providing your pet with an evaluation. We examine your pet's skin and look for any visible signs of an issue. Our veterinarian will manually touch different spots on your pet to look for swelling. Your pet will be weighed, and we'll discuss your pet's lifestyle, among other aspects.
Part of the visit will include you having an opportunity to ask any questions. If you'd like your pet to have dental care, a routine visit is an excellent time to opt for pet services like this one.
Additionally, another one of our routine vet care services is vaccinations. A vaccine can help prevent serious conditions that can be life threatening or cause long-term complications. Your pet either won't experience any effects or will only have mild symptoms. And vaccinations are safe for most pets!
At the appointment, our veterinarian can monitor your pet's chronic conditions and ensure his or her current regimen is still effective. If not, our vet can alter the treatment to better manage it. Not to mention, our vet will perform routine testing, like blood work and a stool sample, to look for organ problems, parasites, etc.
Preventative and Vet Care
Since we can intervene and recommend lifestyle changes you can make to your pet, we can prevent certain conditions from occurring in your pet.
Early Detection Pet Services
Our wellness exams give us a chance to detect problems early when they're causing either mild or no symptoms. Oftentimes, an undiagnosed and untreated problem can worsen and cause your pet to have severe health issues in the future.
When detected early, often, an issue can be manageable, or we can treat it. If certain problems are left unaddressed, they can worsen to the point when they're not treatable or the treatment is aggressive to your pet. Not to mention, once it becomes a major issue, the treatment tends to be more expensive.
Routine wellness exams can help your pet remain healthy for years to come. And it can also prevent your pet from suffering in the future or the possibility of an unaffordable treatment being necessary.
Contact Our Veterinarian for Vet Care and Pet Services
Book an appointment with us at Kindred Care Pet Hospital, serving Richmond, TX, and the neighboring cities, for our pet services by calling (281) 265-0009.