Vaccines are the foundation for a long and healthy life for your pet. A quick visit to our animal hospital in Richmond is all it takes to protect your furry friend from several dangerous communicable diseases. Make an appointment with our veterinarian, Dr. Paul Fidelis, and we'll recommend the right pet vaccinations in Richmond for your dog or cat.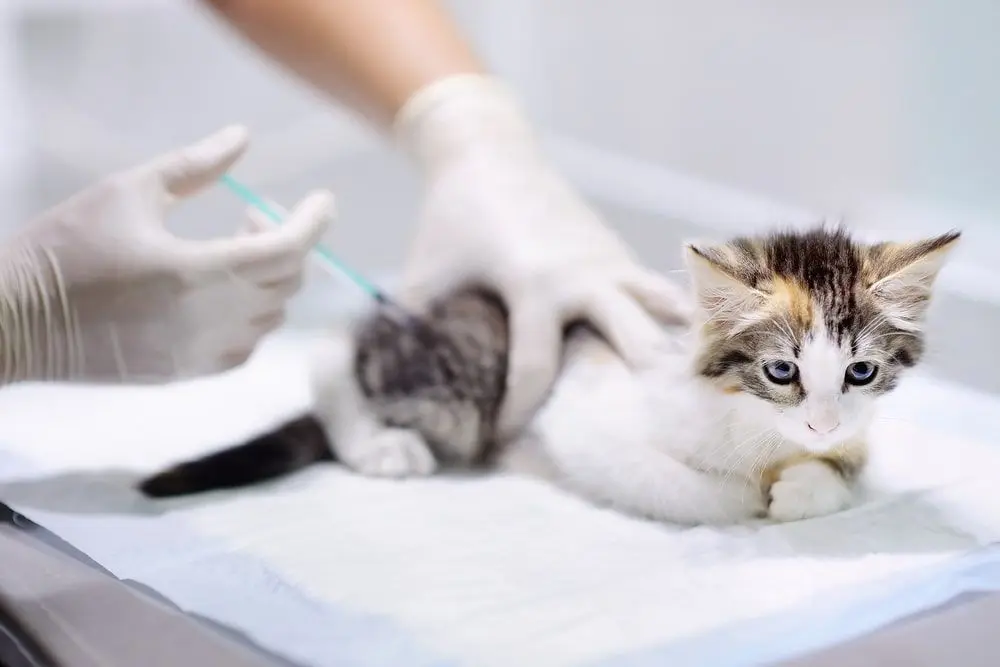 The Importance of Pet Vaccinations
In the last century, since pet vaccinations became widespread, millions of animals have been protected from rabies, distemper, bordetella, and other perilous diseases. Puppies and kittens need smaller doses more frequently to prime their immune system against bacteria and viruses that can be so detrimental to their health. Then, once they reach one-year-old, dogs and cats simply need yearly boosters.
Core vs. Non-Core Pet Vaccinations
Vaccinations are classified into the core and non-core categories. Core vaccinations are absolutely necessary for all pets. Non-core vaccinations are optional and only administered if the animal is at risk of catching the disease. Dr. Fidelis will advise you on what non-core vaccines your pet may need.
Core Dog Shots
Visit our veterinarian in Richmond TX for these core dog shots:
Rabies: This vaccine is required by law to protect your pet against rabies. Booster shots every one to three years keeps your animal continually protected.
Canine Distemper, Hepatitis, Parainfluenza, and Parvovirus (DHPP): A single vaccine, often simply called the "distemper shot," can protect your dog from these four dangerous diseases.
Non-Core Dog Shots
Our veterinarian may recommend the following non-core dog shots if your pet spends a lot of time outdoors or with other dogs:
Leptospirosis (sometimes included with the distemper shot, making it DHLPP)
Bordetella (kennel cough)
Lyme disease (a bacterial infection carried by ticks)
Canine influenza (a highly contagious upper respiratory disease)
Coronavirus (an intestinal disease more prevalent in the southern US)
Core Cat Shots
These cat shots are necessary for all felines:
Rabies: Even if your cat always stays indoors, the law requires you to vaccinate your pet against rabies.
Feline Viral Rhinotracheitis, Calicivirus, and Panleukopenia (FVRCP): Commonly called the "distemper shot," this vaccination protects your cat against three dangerous communicable diseases.
Non-Core Cat Shots
Our vet in Richmond may recommend these non-core cat shots if your furry friend spends a lot of time outside or around other cats:
Chlamydia (sometimes included with the distemper shot, making it FVRCP-C)
Feline leukemia, or FeLV (a viral infection transmitted through close contact)
Feline Immunodeficiency Virus, or FIV (recommended for cats that go outdoors)
Feline Infectious Peritonitis, or FIP (a viral infection common in catteries and feral cat colonies)
Bordetella (often contracted at boarding kennels and groomers)
Visit Our Pet Vaccine Clinic in Richmond
We are committed to keeping pets healthy and preventing debilitating diseases. Join us in our commitment—visit our pet vaccine clinic in Richmond and get your pet up-to-date on all their necessary vaccines.

Contact us online or call (281) 265-0009 today to schedule an appointment with our veterinarian in Richmond TX.