Arthritis in pets affects their behavior and wellbeing, making it hard for you to enjoy the companionship and security that pets provide. Our veterinarian at Kindred Care Pet Hospital in Richmond will diagnose and treat your pet's condition to improve its health.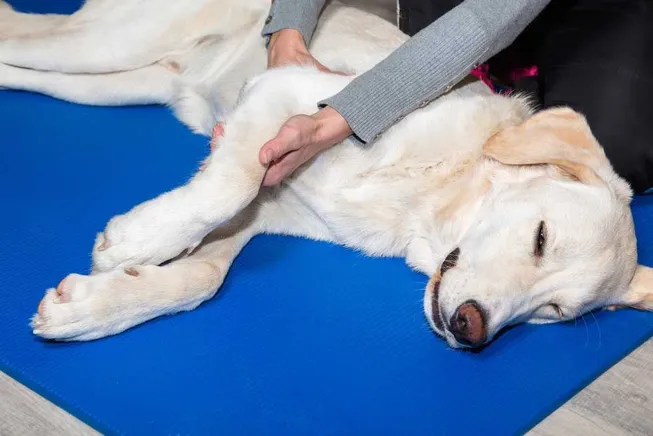 Diagnosing Arthritis in Pets
When you bring your pet to our veterinary clinic, our specialized veterinarian will conduct a thorough physical examination and perform X-ray tests to identify the exact pain points and prescribe the best treatment.
Depending on your pet's condition, our veterinarian will prescribe non-steroidal anti-inflammatory drugs to reduce inflammation and pain and possibly other medications like Cartrophen to help the body repair cartilage to enhance optimal body function.
The most common types of arthritis in pets include:
Osteoarthritis – It is the most common type of arthritis among pets. The condition is caused by injuries, wear-and-tear of the joints, or dislocation of the knee cap. Osteoarthritis usually starts with minor pain, which worsens due to late detection and treatments to relieve the symptoms.
Rheumatoid Arthritis - Rheumatoid Arthritis develops when the immune system attacks the healthy body tissues, damaging the cartilage and the joint lining. As a result, the condition erodes the opposing bones of the joint, leading to inflammation and pain.
How To Know Your Pet Could Be Suffering From Arthritis
Being keen on specific symptoms is crucial in detecting arthritis in pets. You may not realize the symptoms at the early stages, but as joint pain intensifies, you will be able to see them. Some of the most common signs of arthritis include:
Limping – Joint inflammation causes intense pain that makes it difficult for your pet to move around. Depending on the affected joints, you will discover your pet limps or favors one or two legs over the others. You may notice this especially when the pet wakes up and tries to move around.
Reluctance to move – Deep pain from arthritis will make your pet stay in one place for too long. Therefore, it could be good to visit your veterinarian once you realize your pet no longer moves around like it used to; instead, it sleeps in one place for a long time.
Licking and biting – Most pets with arthritis lick or bite the affected parts of their body. Consequently, the condition can worsen and cause baldness in the areas affected, putting the pet at a higher risk of developing bacterial infections.
Change of behavior - Arthritis in pets can make them sensitive to touch. As a result, your pet may snap or bite when you touch them.
Contact Us Today
Once you realize signs of arthritis in your pet, it could be better to consult a professional veterinarian immediately. At Kindred Care Pet Hospital in Richmond VA, we offer quality diagnosis and treatment of arthritis and many other pet illnesses. Call us today at (281) 265-0009 for more information or to schedule an appointment with our veterinarian.