The topic of surgery can be very difficult for a pet owner to face. If your dog requires surgery, you may be anxious and worried about his treatment and care. At Kindred Care Pet Hospital, we understand your concern for the health and welfare of your pup. By addressing your concerns, we can alleviate your fears and give you greater confidence in our surgical care. Here's what you should know about dog surgery pre-and post-op care.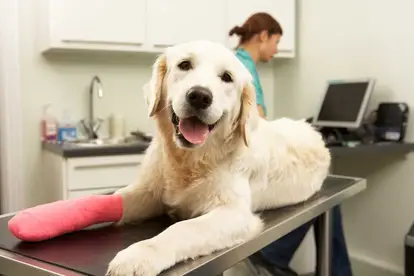 Pre-Op Care
Before we schedule surgery for your pup, we'll make sure you fully understand the purpose of the surgery and options for treatment. We'll review the surgical procedure with you, go over the risks and answer any questions you may have concerning your pup's future care. We'll also conduct routine bloodwork on your pup to ensure he's healthy enough for surgery.
Once your pooch is scheduled for surgery, we'll provide you with instructions on his pre-op care, taking into consideration the type of surgery to be performed. In general, however, you can prepare your pup by following these guidelines:
If your pet needs a bath, give him one a day or two before surgery, as he'll be unable to bathe afterwards until his sutures heal.
We request you not give your pup food within 10 to 12 hours of the surgery. If he's thirsty, he can be allowed water up to the morning of the surgery. Your pup will receive IV fluids during surgery to keep him hydrated.
Arrive on time for your pet's surgical procedure to avoid delays.
Make sure our staff has your phone number so we can update you on your pet's procedure.
Post-Op Care
Before taking your pooch home, we'll make sure you have written instructions detailing the post-op care he'll need. We'll also provide your pup with pain management medications to keep him as comfortable as possible during his recovery.
For routine surgeries, like spay or neuter procedures, we'll keep your pup for observation until the anesthesia has worn off. Most dogs are allowed to go home the same day. For complex surgeries, we may recommend your pup stay at our hospital overnight to ensure no complications arise.
Once your pup is home, your job will be to monitor his recovery and keep him quiet, calm, and resting as much as possible for the first few weeks after surgery so his sutures can heal.
If your pooch shows signs of complications such as redness, swelling, or bleeding from the surgical site, vomiting, or extreme lethargy, contact us right away.
See Your Richmond Vet for Dog Surgery
To learn more about dog surgery or to schedule a surgical procedure for your pup, contact Kindred Care Pet Hospital at (281) 265-0009.