Older animals make absolutely wonderful companions! They are confident and comfortable, not as easily rattled, and happy to snuggle peacefully with you on the couch. Whether your pet has been a part of your family for many years or you are welcoming a senior pet now, Kindred Care Pet Hospital in Richmond is happy to provide your pet with quality veterinary care. We have extensive experience in senior pet care and would like to share a few tips on keeping your senior pet healthy and happy.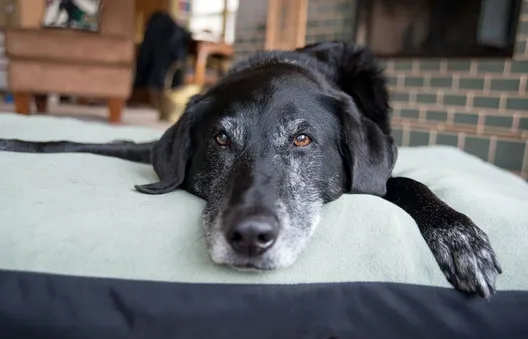 Dental Care
Very often, older pets begin having problems with their teeth and gums. Pay close attention to changes in appetite; while many different causes could be at the root of this if your pet behaves as if chewing is painful, then gum disease or tooth problems may be the issue. Make an appointment with our veterinarian to have your pet's teeth cleaned periodically, along with a dental exam to check for tooth decay, gum inflammation, and other problems. Proper nutrition is essential to your pet's health, so enabling them to eat without pain is an important investment in their care.
Specialized Diet
Your mature pet's system requires somewhat different fuel than during their younger stages. Learn more about the specially formulated senior pet foods and change your pet's diet at the appropriate age. Talk to our veterinarian during your pet's next exam about recommendations on whether you should switch to grain-free food or a recipe lower in fat or higher in protein.
Arthritis
Joints accumulate wear and tear in older pets the way they do in people, but unfortunately our pets can't let us know. Be observant about your pet's posture and note any sounds and signs of pain when they are getting up or moving. If your pet is older, don't push them to go on long walks. Treating arthritis is a common part of senior pet care. Call our veterinarian for an exam if you see symptoms of arthritis.
Kidney Failure
Problems with the excretory system often show up in older pets. Excessive drinking and urinating and decreased appetite can indicate kidney issues. Unfortunately, this is a progressive disease, but our veterinarian can provide treatment to make your pet comfortable and give your pet more time.
Quality of Life
Shifts in behavior are especially important in senior pets. You know your pet best, so you as the pet parent will be the best judge of when your pet's behavior changes and when a veterinary exam is needed. At Kindred Care Pet Hospital in Richmond, we want the best for your furry family member just as you do. Talk with our veterinarian about senior pet care and treatments that best enhance your pet's quality of life. Senior pets still have lots of love to give and make excellent companions. When it comes to your senior pet's health, be proactive and call Kindred Care Pet Hospital at (281) 265-0009 to set up an exam today.